Four days into going full time RVing, we almost died. Was this all a mistake? I didn't even see this coming, I thought we were prepared for everything. But apparently not. 
We set out to live in our RV… or house on wheels as I like to call it, in the beginning of June 2021. We sold our house in Illinois and packed the RV to the brim with our belongings. 
We were in limbo for a few weeks after selling our house, which meant we parked our rig at the office where my husband and I own our businesses. The commute would only entail a 30 second walk from my bed to my office desk. I'm not gonna lie, this was the best commute to work, ever!
But this transitional period from a house to living in the RV allowed us to really narrow down our essentials, organize, and clean up the space. I'm looking at the word space and laughing to myself because the irony of it is, we have no space. Imagine downsizing from a 2000 square foot house to now a 270 square foot motorhome. Yeah, no space. 
Long story short, we had 2 weeks to prepare ourselves for "the real" thing. We purchased all the necessary items for survival and livability. We made sure that we had every tool needed just in case. Had the RV fully checked and inspected. We even bought spare parts for mechanical fixes. Sounds like we checked everything off for takeoff, right?
When we finally hit the road
Once time was up, we hit the road. This time it was for real. No house. No going back. The life we once lived was merely a memory. It all hit me like a ton of bricks. We said our goodbyes to everyone, climbed aboard and let the GPS lead us to our next destination.
It's easy to believe that everyday will be fun and adventurous in the life of an RVer. You get to travel in your home, see other cities and states, as well as experience other cultures. But there are many unknowns this life brings upon. My unknown, or maybe my worst nightmare was about to unfold before my eyes. 
Who would have thought...
It was a beautiful mid June morning. Our little family of four had just ended our 3 day stay in Attica, Indiana. And it was time to hit the road again.
Since the next destination wasn't far, my husband Mark drove the RV and I, the Jeep.
As we are driving down I-74, I am blasting an audiobook in the car, driving 67 miles per hour behind the RV. While I am busy laughing and engaging myself in the audiobook, I suddenly stop laughing as the road takes my undivided attention. Next thing I know, a massive tire blow out takes place in front of me. Boom!
Shreds of tire peels right off the RV coming straight toward me, throwing itself under the Jeep chaise. I swerve to the shoulder trying to dodge the debris.
As both Mark and I pull over to the right shoulder, I quickly park the Jeep, open the door, and run to see what the damage is.
Man, the damage was brutal. The dually inner rear tire was completely gone. Only to be held together by single threads of rubber. All of the electrical wires were slashed in half. And the 5 inch exhaust pipe was contorted, and flattened as if someone stomped on it. It felt like the start of our adventure was over.
Stranded in the middle of nowhere on a busy highway was a nightmare. We were supposed to be at our next campground roasting marshmallows and watching the sunset. Instead, we were out in the cornfields where 6 people live in a 10 mile radius. 
Mark took the plunge and drove the RV with now 3 wheels supporting all the weight. As he drove super slowly with his hazards on to the next exit, he parked it in a safe place, away from fast-moving semi's, and then called for roadside assistance. 
The waiting game had begun. 90 minutes they quoted. Ninety minutes! 
All 4 of us were so exhausted and hungry. Thankfully the next town over was 20 minutes away. So we locked up the RV, and we left it. 
I was expecting some janky old town. To my surprise we arrived at a quaint little town with southern style homes, and beautiful brick buildings in the downtown area. 
There was a smokehouse where we settled for chicken wings, coleslaw, and mac and cheese. I had many different thoughts and questions going through my head, but I let them pass by. I was actually enjoying this little adventure. Savoring the beauty in the unknown. 
I couldn't complain. I was with my family, eating a nice dinner outside, and delighting in this adorable little town. I kept thinking, it could have been worse. Much worse.
After we all finished eating, it was time to head back and meet with our roadside assistance guy who was super sweet and friendly. He installed a brand new tire but this only solved a fraction of the issue. 
Our exhaust pipe endured a lot of impact caused from the tire explosion. It was still intact but it was grazing the pavement which was a huge problem. Silly me thought we could zip tie the exhaust up in a jiffy and call it a day. Not realizing how incredibly strong and stubborn metal really is, it was going to take more than zip ties to fix this dangerous predicament.
The roadside assistance guy tried to lift up the pipe as far as possible. With his help, 2 hours later we hit the road again, but this time, going 40 miles per hour with our hazards on. Every bump the RV hit, the exhaust touched the ground and created sparks. And the gut-wrenching part was that the fuel tank was right above where the sparks were originating.
I called Mark as I said we have to pull over and try to lift the exhaust again. So we spent another hour trying to strap on the exhaust to the frame.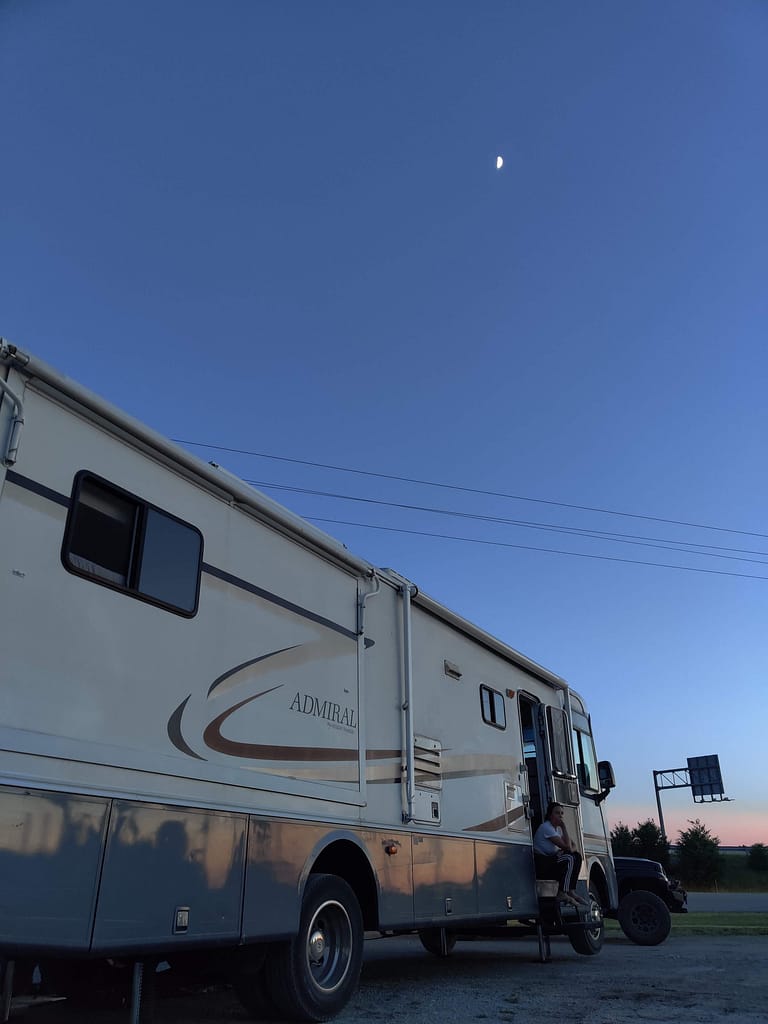 Ah, finally, we were done. Just one more thing. We needed gas.
As we are filling up the tank, Mark hears what sounds like liquid dripping on the concrete. He peeks underneath. And finds that the pipe which connects to the gas tank had a small hole in it. Great… Gasoline and potential sparks (if we hit a big bump) was a recipe for disaster.
The kids came with me in the Jeep in case something happened. They were so scared they started to cry saying they don't want the RV to explode. I mean, this is our one and only home we currently have. I said everything will be okay. Dad's going to be just fine.
And so we all survived the remaining ride to our RV resort. Thank God! It was 12:30am by the time we arrived. Barely alive we hit the sheets and slept like babies. Four big babies.  
Boy, what an eventful day. I'm a firm believer that everything happens for a reason. And for some reason we blew a tire on the most perfect day. Because the very next day, there was a crazy thunderstorm with flash flooding accompanied by a tornado that tore up that area. It still boggles my mind how exceedingly perfect the timing was.  
And so, the question still stands. Is full time RV living a mistake? Absolutely not. There's always going to be problems to solve, and unknowns to figure out. But that's what we signed up for. The beauty of RV living is to get away from the mundane, spending quality time with our children, and living life to the fullest even if it does involve being stranded in the middle of nowhere.